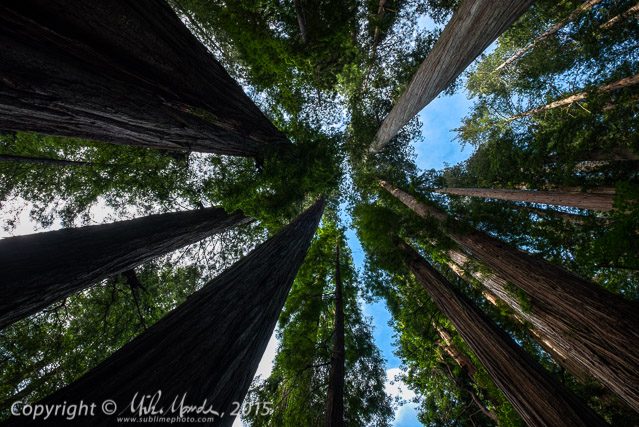 Since I started posting images from my recent trip from the last day, I thought I would work backwards since eventually, you'll see the posts in the order I took them, top down. So, from days 12 and 13 of my trip...
On the way up the California coast, I stopped in Redwood National Park and Jedediah Smith Redwoods State Park and photographed the towering trees, a type of giant Sequoia (actually Sequoia sempervirens), more commonly known as the coast redwood or California redwood. These trees can live from 1200-1800 years and the tallest ones approach 120 meters (400 feet) in height, with trunks nearly 9 meters (30 feet) wide near the ground. Sadly, I had no fog when I was there and just had to deal with the dynamic range of sunlight streaming in through the big trees. With no fog, at least I got punchy and vibrant colour. The last three shots are from the southern Oregon Coast, with the very last shot being the "sunniest" weather I saw on my entire coastal drive north.
Note that a total of 31 out of the 40 shots in this gallery were taken with my excellent Fujifilm XF 16mm f/1.4 lens, so if anyone is looking for more samples, have a browse. In keeping with the huge trees, the larger images are available in big, 3000 pixel wide versions, to better allow you to see details in the trees and forest...
Link:
All galleries from this trip...