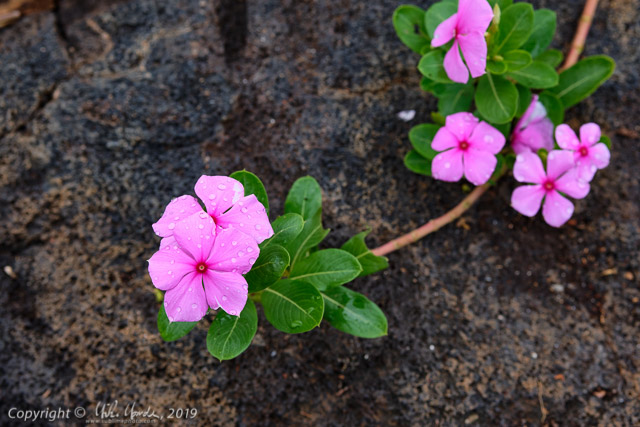 In early December, my father and I left on a ten day trip to the Big Island of Hawaii. We wanted to visit my mom's memorial near the village of Milolii on the Kona Coast, the west side of Hawaii, where her ashes were scattered in the ocean back in 2008 following her long struggle with cancer.
On this first mostly overcast and occasionally rainy day on the Big Island, we decided to visit the Old Kona Airport State Recreation Area, which is the official name as near as I can tell. When you search the Internet, there seem to be numerous other designations: Kailua-Kona State Park, Old Kona Airport Botanical Gardens, Old Kona Airport State Park (this one gets my vote!), Old Kona Airport Beach State Park and more.
In any case, this is the site of Kona's old airport, before the new Kona International Airport opened way back in 1970. The old airport's runway is now a long parking lot for beach goers and for joggers and walkers who wend their way through the lush gardens there. This isn't a private botanical garden, however it seems like there are many locals that have adopted a plot of garden to maintain and enjoy, so there was quite a variety of plants, including many cacti. There first shot even shows someone's preparation for Christmas!
Some might be surprised to see cacti on Hawaii, but there are 8 distinct
climate zones
on the Big Island, including fairly large semi-arid and arid desert areas on the northern west-coast, in Mauna Kea's and Mauna Loa's rain shadow.
My somewhat regular recent blogging was interrupted, firstly due to the trip, and secondly since I unfortunately came down with one of the worst flus I ever had, about four days into our Hawaii trip. I felt terrible for weeks and I've only recently recovered enough that I feel like myself again!
Link to:
All the blog posts from my 2019 Hawaii Trip