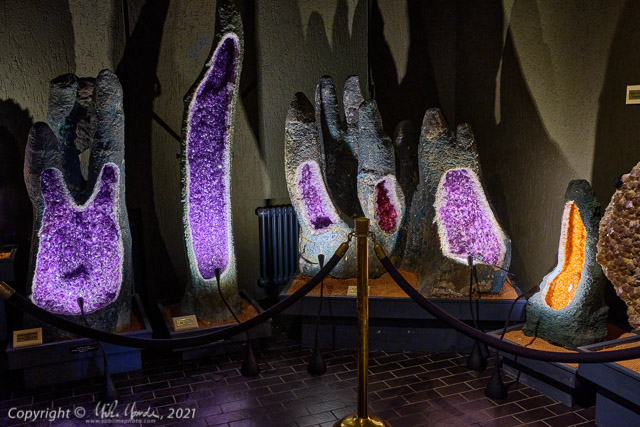 Gallery (120 images): Germany 2018 - Flight & Idar Oberstein
I'm going to call this my the first "official" posting from the Germany trip that I went on with my father in the summer of 2018. I had posted a few galleries previously a couple of years back, from the middle of the trip, but since I am now using new software to process my images (Capture One Pro instead of Adobe Lightroom), I will be republishing those galleries in the appropriate order and reprocessing everything I had already done.
The above gallery contains images mainly from a mineral and gemstone museum, called Deutsches Mineralienmuseum (or German Mineral Museum), in the town of Idar Oberstein. The town is famous for the processing of rocks & gems, lapidary and jewellery manufacturing. There are many rock and gemstone museums, and in a future posting, I will be showing photos from another spectacular one, as well as some others I took during a tour of a local gemstone mine. This is a long gallery, 120 images, but there are so many fascinating displays of minerals and gemstones, as well as some sculptures, that it was hard to pare it down.
There is one photo of my dad (photo 28), standing next to some giant crystals. The above blog post photo also shows some massive amethyst geodes, amongst others, most of which stand taller than my dad as well. In the middle of the gallery, photos 100 to 105, there are some shots showing UV fluorescence of some minerals, with pairs of shots, one in regular light and the next in UV light.
I am way behind in my image processing, and I am not going to promise that I'll get through all these quickly, but this is the first of many more galleries to come from my 2018 Germany trip!