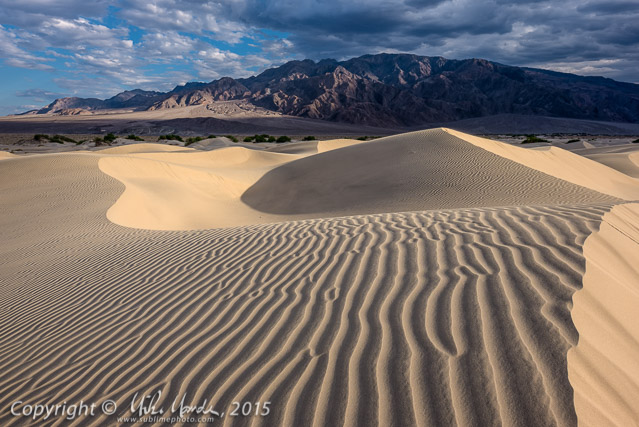 This gallery contains images from my first two days at Death Valley National Park. After my drive up from Joshua Tree National Park, I was amazed at how few people were camping at Furnace Creek, despite the fact that it was the Friday before Memorial Day Weekend. Since it was already fairly hot and already considered the off-season in Death Valley, the campground had relatively few people and a big part of it was already closed of entirely. After finding a reasonably shaded spot for the tent, I set up camp and then headed over to Zabriskie Point and photographed sunset there.
On the second day, I drove the Titus Canyon Road in from Nevada, stopping the photograph the ghost town of Leadfield and many other scenic spots along the way. Later that evening I spent time on the sand dunes at Stovepipe Wells, the Mesquite Dunes, where I thankfully managed to hike out to an area devoid of human footprints. There was some amazing light and after the skies started looking ominous, I decided to make time back to the vehicle. Indeed, when I got back to the car, it was very windy and there was a huge wall of sand and dust headed my way! I started doing a time-lapse of the approaching sand but that was cut short when it hit fairly quickly. The winds then were so strong, that it send my tripod skittering and skidding across the road! Luckily I had just taken my camera off and I chased it down...
I drove back out of the sandstorm at low speeds with my hazards flashing, which is what other cars were doing as well and once I cleared the cloud of sand, I booted it back to my campsite to the south at Furnace Creek. Luckily I beat the sandstorm there by about 10 minutes and managed to get all my vents inside zipped shut to keep out the blowing sand and dust. Unfortunately it was a hot and muggy night with all the vents shut and the temperature in the tent never dropped below 35º C, at least not until about 2:00am when the storm abated and I could open up some of the vents again. Still, it really didn't cool off much that night, maybe a few degrees lower only. With all the fiercely blowing sand and dust, thunder, lightning and some intervals of pelting rain too, my tent was a blotchy, muddy mess the next morning.
Link:
All galleries from this trip...