In late June, my father and I were off on a three week trip to Germany, visiting lots of friends and relatives, as well as doing some sightseeing too. The gallery I am publishing here is actually from a day right in the middle of our trip, a day where we met up with my friend Julia and went sightseeing in Hanover. There are a few reasons why I am publishing this one first...
Just before the trip, I received my Venus Optics Laowa Zero-D 9mm f/2.8 lens for my Fujifilm X-system, and since returning, I have spent a fair bit of time examining images from that lens closely. While it isn't perfect, considering how wide a lens it is (equivalent to a 13.5mm on a full-frame 35mm), how compact and lightweight it is, and the fact that true to its name, it really does effectively have zero barrel distortion, I have been very impressed with its performance. The "new" city hall in Hanover, which opened in 1913 and took about 12 years to build, is an impressive building with a huge cathedral-like interior and lots of baroque detail. It was the perfect place to use the Laowa 9mm lens, which did a good job of encompassing much of the huge interior into single frames. Making an effort to keep the lens level eliminated the sloping perceptive distortion that any such a wide lens would exhibit, which is dramatically visible on a few photos that I intentionally shot that way. Overall, I am very happy with how the 9mm lens performed, and generally speaking, it was a very successful day of photography, with a sky that cooperated as well, giving some nice, fluffy white clouds!
To read a more detailed evaluation of the Laowa 9mm, one that I wrote just before I left on the trip, see Beau Photo's July 2018 Newsletter -
July 2018 PDF
.
In the evening, the plan was to go to a Biergarten and watch Germany play soccer against South Korea, but for all the fans it was a sad and disappointing day when Germany lost 2-0 that evening. It was also the earliest the country has ever been eliminated from the World Cup since 1938! Julia, my dad and I were to meet her brother at the Biergarten, and later on her husband, but when we arrived, with the game just starting, it was an absolute zoo! There were huge crowds of people, long lineups where one had to stand to get food, and no more seating. Some iPhone shots of the crowds...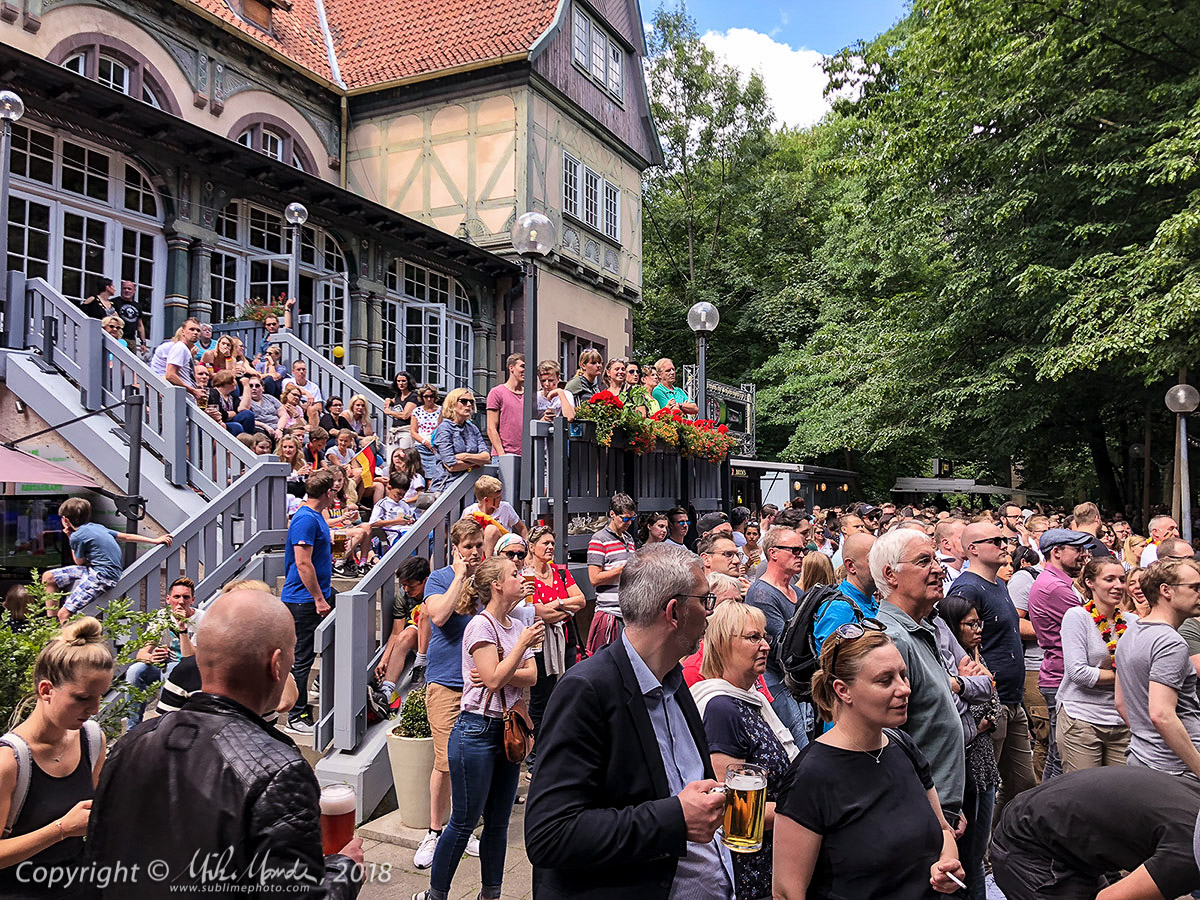 We had to park about a kilometre away but check out this panoramic iPhone shot of all the bikes in front of the Biergarten once we left. That is one heckuva lot of bikes!
After dinner, Julia's husband met up with us and we wandered around the city a while longer. It turned out to be a really nice day in the end.
See:
All Germany 2018 Galleries