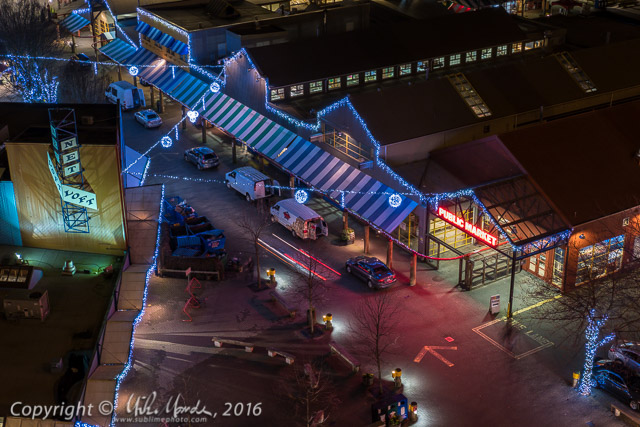 These are the first photos I have shot with a production Fujifilm X-Pro2, one that was kindly loaned to me by a local Fujifilm rep for a few days. In the near future, time permitting, I will be publishing more images and will write a followup review to my
previous posting
about briefly testing a preproduction model, once I have a chance to work my very own X-Pro2 body in detail.
The above linked gallery contains numerous shots using the camera's new ACROS black&white film simulation mode. Those photos were raw files actually, rendered in Adobe Lightroom CC, and not camera JPEGs, but Lightroom's new ACROS calibration preset for the X-Pro2 seems to mimic the camera's ACROS JPEG files quite faithfully.
Note that some night shots may show three or four bright "hot pixels", but after I applied the X-Pro2's new "Pixel Mapping" function, those visible hot pixels were no longer seen in subsequent shots. My latest X-E2 body has also developed one bright hot pixel since I got it, but alas there is no pixel mapping option on it to get rid of it.
Basically, "Pixel Mapping" is when the camera takes a photo with the shutter closed, then analyzes the resulting image to see if there are any out-of-spec pixels that are not black. The camera then updates its internal sensor calibration map, so that those hot pixels register a black that's equal to the other surrounding ones, thereby ridding future shots of those annoying bright specks. Note that those bright specks are quite different from regular high ISO noise. This Pixel Mapping feature is fairly rare in digital cameras, mainly seen on some Micro-4/3 bodies from Panasonic and Olympus, but it is certainly a welcome addition to the X-Pro2's feature set.
Very briefly though, the camera is most impressive! When compared to my X-E2 body, the improvements in the AF system, shutter responsiveness and overall body ergonomics are very noticeable, quite dramatic really. The Fujifilm XF lenses that I've tried so far, namely the 16mm f/1.4, 23mm f/1.4, 35mm f/2 and 90mm f/2, have all continued to perform spectacularly well, even with a bump to 24MP from the older X-E2's 16MP sensor. Fujifilm's gorgeous colour rendition is still there with the new sensor as well. More to come...