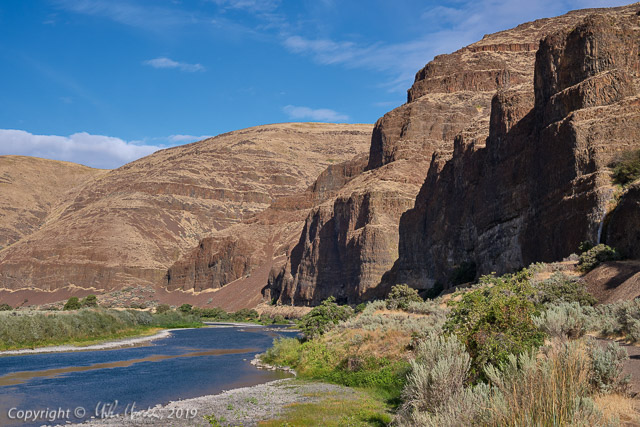 Gallery:
2019 Oregon & Idaho Trip - Days 1 & 2
In early September I was off for a 10 day road-trip with my friend Bill, camping, hiking and taking photos in Oregon and Idaho, with a brief jaunt into northern Utah to visit the Golden Spike National Historical Park. The above shot was taken in the morning, hiking along the John Day River after the first night of camping at Cottonwood Canyon State Park in north central Oregon.
I've recently switched from using Adobe Lightroom and/or PhotoNinja for processing my raw files, to Capture One Pro. The image quality one gets from Capture One Pro, especially with respect to detail and texture in deep shadows, is far superior to Adobe's processing, at least when it comes to working with X-Trans raw files from a Fujifilm body. Capture One's image quality is more or less on par with PhotoNinja these days, but the workflow is a lot smoother. I still used Lightroom to download, geotag and organize my initial shots while traveling, but switched to Capture One for the final processing once back at home.
Speaking of geotagging, what I do is take a shot of my Garmin Fenix 5 Plus GPS watch in the morning after getting a satellite lock, so that I can easily correct the capture time of all the shots in Lightroom as a group, to sync them with GPS time for the day of shooting. I record track-logs anywhere I shoot and then use Lightroom's excellent geotagging feature in the Map module to add location metadata to each shot for the day after importing the GPX files. It is quite a simple and seamless process generally speaking since I can handle all the images in one day as a group. That said, I sure would love it if my camera had a GPS built in regardless!
I also recently picked up a Fujifilm X-H1 and shot with it exclusively on this trip. The EVF is far superior to the one in my X-Pro2 and IBIS was also nice to have at times. While the X-H1's image quality is not really any better and it is a bit bulkier than my X-Pro2, the benefits of the improved EVF and in-body image-stabilization made it a compelling upgrade... well I suppose you would call it more of a "side-grade."
Originally, the plan was to scoot down to Moab and spend the trip there, but the weather was so nice in southeast Oregon and southern Idaho, that there didn't seem a compelling reason to do so much more driving...