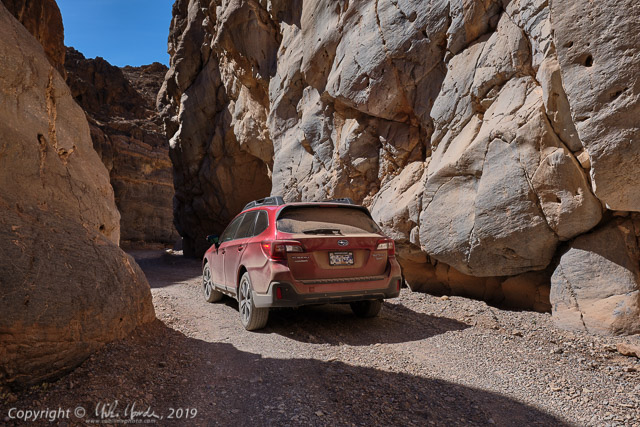 After spending some time in Rhyolite in the morning, as per the previous gallery, my dad and I made our way into Death Valley... the long way around via a scenic route: Titus Canyon. The road to Titus Canyon, which is strictly one way, branches off from the main highway just west of Rhyolite. After driving through a relatively flat area where there were lots of blooming wildflowers and some cacti, the road started winding around through some colourful scenery, and slowly the canyon got narrower and narrower. On previous trips through Titus Canyon, I never really documented the drive much, so this time I made sure to take lots of photos of my Outback in the canyon, so one can see how tight it really gets!
After exiting Titus Canyon and having an early dinner in Furnace Creek, we made our way south to Badwater, the lowest point in Death Valley, indeed the lowest in North America, at roughly 280 feet below sea-level. One shot in the linked gallery shows a sea-level sign way up the side of a mountain.
After Badwater, we made our way back north, towards our hotel in Beatty Nevada, but looped through the Artist's Palette drive, an area with vividly coloured sandstone and soil.
Link to:
All the blog posts from my 2019 Grand Canyon Trip