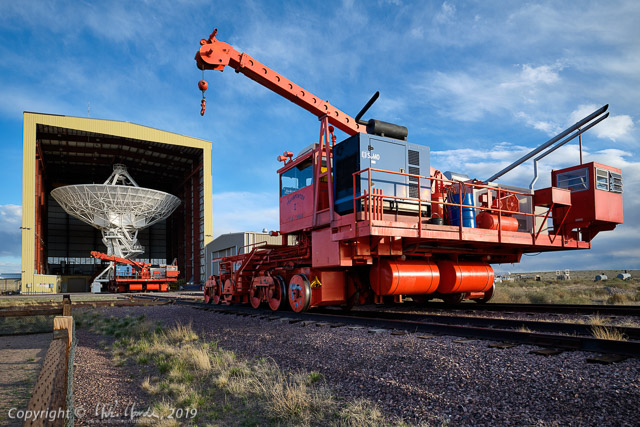 After a day of travel with no photography, just driving across central Arizona and making time, we arrived at the Very Large Array (
VLA
) radio telescope facility in New Mexico in the evening. The interesting thing about the VLA is that there are many radio dishes arrayed along three sets of twinned railway tracks that radiate outward in a "Y" shape. The dishes can be moved along these tracks and repositioned to either be close together near the centre, or much further apart across the entire valley, depending on the scientists' needs. The tracks are each about 21 kilometres in length, allowing for huge flexibility in positioning the individual dishes.
In the above photo, you can see one of the rail transport vehicles that helps move the dishes, with one showing in the assembly and maintenance building in the background. It might be a bit hard to tell the scale, but the individual radio dishes are actually quite large, being 25 meters in diameter and each weighing over 200 metric tons!
The following day, before making our way up to Los Alamos, we stopped by the Bosque Del Apache Wildlife Preserve and walked around a little, observing many different birds... and one turtle as well. During past visits, I saw many more turtles basking in the sun, but I only glimpsed a single one that day...
Link to:
All the blog posts from my 2019 Grand Canyon Trip