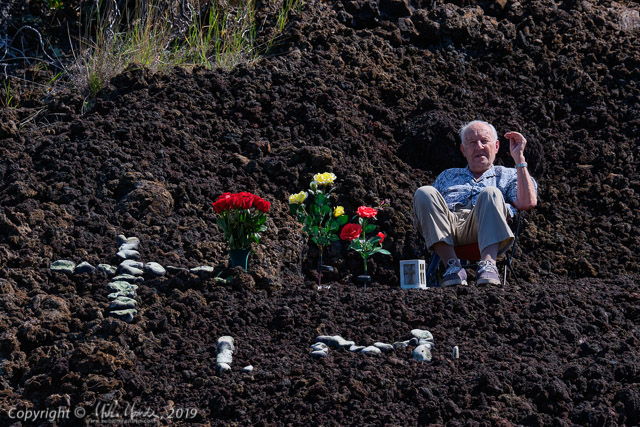 On this day, my father and I visited my mother Ingrid's memorial, just outside the village of Milolii. The white coral, which my aunt, my father and I placed back in 2008 after we had scattered my mom's ashes in the ocean near there, has turned a dingy shade of gray over the last 10 years. I decided to flip all the coral pieces over to expose their somewhat whiter undersides, which has been done in the above shot. I helped my father up the lava and gave him my camp chair to sit in while I hammered in the stakes that hold up the two solar-powered LED rose bouquets. The red roses on the left are real. Originally, the memorial looked different, with my mom's full name spelled out, but then it was vandalized at some point. A few years back, when my father and Franziska were in Hawaii, they fixed it up and simplified it to just my mom's initials.
To see some images of the original memorial, see my blog posting from 2008 here (opens in a new window)...
After fixing up the memorial, my dad and I headed to the south coast of the Big Island, where (very important!) we visited the famous Punalu'u Bake Shop that serves up some amazing pastries and donuts. We had lunch there, each having a coffee and three donuts... which we both decided was at least one donut too many. They were big! Not a particularly healthy lunch that day, but it was good...
We also stopped at the parking area where one can hike to the Green Sand Beach near South Point, and I took numerous photos of the coastline there. Below are two panoramas I shot from there. When you click them, they will open larger in a new window.

When you open this next one, and also in photo 23 of the linked gallery, you can really see the many layers that make up the island's landmass, seemingly made of alternating Pahoehoe and A'a lava flows. In some areas, it makes the coastline almost look like someone has cut into a gigantic cake...