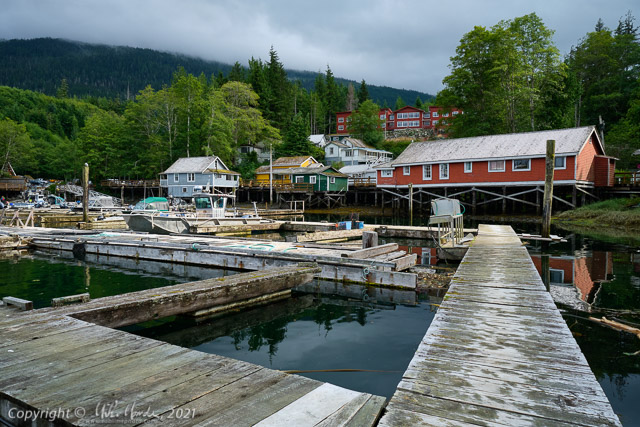 Gallery (35 images): 2021 Island Trip - Telegraph Cove - Day 4

The weather improved slightly the day after our three night stint in the ever so relaxing school bus, and after photographing the bus in detail in the morning (seen in my last gallery), it was off again, driving further north up the east side of Vancouver Island, first to the small historic community of Telegraph Cove, then further on to the town of Port McNeill. We stayed in Port McNeill for two nights and after a ferry ride, spent most of the next day over in Alert Bay on Cormorant Island, with a very brief stint to Sointula on Malcolm Island. That will be in my next gallery...
Telegraph Cove was wonderful visually, with brightly painted old buildings right at the seashore built upon pilings, weathered floating docks and lots of history. We didn't take any whale watching tours but spent some time with binoculars searching the ocean off in the distance for any signs of large sea mammals. Sadly, we only spotted boats, kayakers and birds...
Link to:
All the blog posts from my 2021 Island Trip