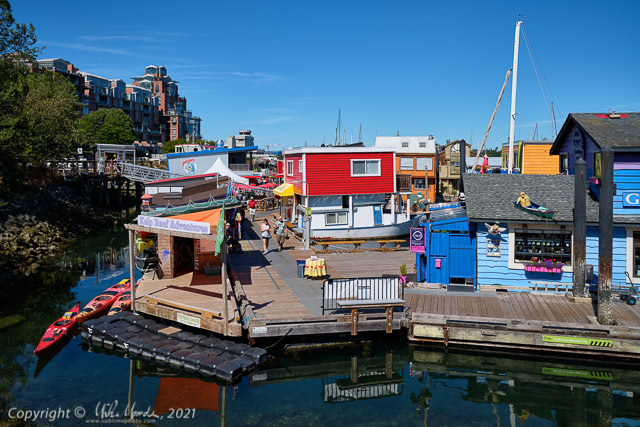 Gallery: 2021 Island Trip - Victoria & Saltspring - Days 7-9
This final gallery of our 2021 Island trip has photos covering the last few days of our vacation. After the long 460 km drive from Port McNeill down to Victoria, we stayed at Marketa's B&B. The stay was wonderful in this large Edwardian style home, with very cozy rooms and an absolutely delicious breakfast in the morning. We had a room with its own large Jacuzzi tub, and it was wonderful to soak in it after a long day of driving! The next morning we visited Fisherman's Wharf in Victoria, which features tons of colourfully painted floating shops and house boats.
After a delicious fish&ship lunch at Fisherman's Wharf, we headed off to Schwartz Bay to catch the ferry to Saltspring Island, where we stayed for three days at my friend Ted's place. The first evening on Saltspring was great, nice and clear but the following days, the smoke from all the wildfires in BC and Washington finally got pushed out far enough to severely affect the visibility there too. In the last few shots in the gallery, you can see the smoke and haze, and the orange and red sun which was nearly blotted out completely. It was really too bad that the amazing views from Mount Maxwell were all hazed out. Oh well... we will definitely be visiting there again in the future, hopefully with clearer skies next time!
That's it for this trip, summer number two of the COVID-19 pandemic. Next year, Emily and I really hope to be able to visit Germany with my father! Crossing fingers the pandemic is under control by that time finally...
Link to:
All the blog posts from my 2021 Island Trip